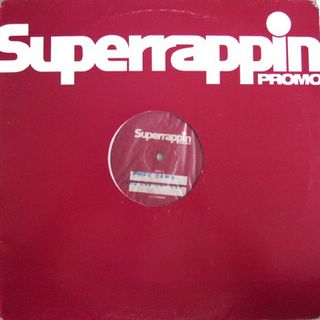 Phife Dawg : Thought U Wuz Nice (Groove Attack, 1999)Phife Dawg : If Men Are DogsPhife Dawg & Chip Fu : Rumours
How comes I don't have a retail copy of this single ? I really should, not only because I like this record, but because I actually was doing the promotion for Phife's album in France ! But I was green back then. That was before I understand the importance of keeping 10 copies of every record I promote. I was so young and naive that I really thought it was useful to send out promos to all those mainstream DJs who don't give a fuck about a records unless its distributed by Sony, BMG, Universal, EMI or Warner.
The original artwork has one of those classic Rock Steady Crew pictures circa 1982, I think it's Kuriaki but I wouldn't bet my copy of "Hey You The Rock Steady Crew" on it. "Bend Ova" was Pife's official first solo single, "
If Men Are Dogs
" had leaked years before, but was never released properly. This 12" was released way before the
Ventilation
LP, and for some reason they forgot to include "
Thought U Wuz Nice
" on it. It would have been the best track of the album, despite the fact that it's produced by Jay Dee. Not that I don't like Jay Dee, but I'm still mad at him for destroying A Tribe Called Quest. I mean it's not a coincidence if their career started to go down when they hired him.
Everybody dissed the album at the time, trying to compare it to Tribe's best material. Of course it wasn't as good as Tribe ! But then again who was ? Slum Village ? Please... At least it was better than Q-Tip's first solo.
"Thought U Was Nice" was one of those tracks were the MC takes a look back at his life, which very often means that the best part of his career is behind him ! Phife disappeared from the music scene not long after his album, occasionnally dropping a verse
here
and a single
there
, but no one really cares anymore. Most recently I heard him on a
very nice track
with Chip Fu, courtesy of the
"Rappers I Know"
website.