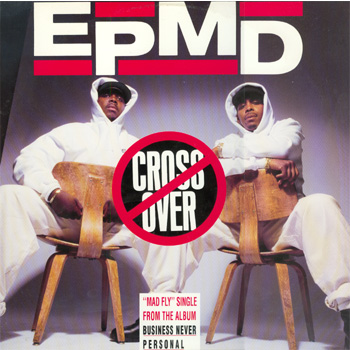 EPMD :
Brothers From Brentwood, LI
(Def Jam, 1992)
EPMD :
Crossover (Trunk Remix)
(Def Jam, 1992)
Despite what their recent first album may lead to believe, the Hit Squad was one of the strongest crew ever. Who could think of a harder posse cut than "Headbangers" ?
All week long I'll share some underappreciated Hit Squad members B sides. But let's start with a pretty well known gem. "
Brothers From Brentwood, LI
" is the epitome of hardcore hip hop, but the funny thing is that it was the B side to EPMD's well titled "Crossover". Being their first track with a sung chorus this single was supposed to attract a new audience (and it did), not familiar with underground hip hop who would buy the 12" for the soft slice of funk on side A, and still expose them to one of the hardest rap song you can think of. The beauty of this tactic is that it works both ways.
When you have songs titled "Underground" and "Hardcore" on your album you would expect that some of your die hard fans will have something to say when you come back with a cross over track titled, ahem... "Cross Over". But fans had to buy that single, or else they whould have miss EPMD best track ever. "Brothers From Brentwood, LI" had everything you love in an Erick Sermon production : an overused sample, loud drum, layers and layers of sounds, and dope vocal hook. The kind of vocal sample that would leave you out of breath if you try to sing along with it.
As I said this single was huge in 1992, it was EPMD's first gold single, and it was released as a CD single with a remix of "
Crossover (Trunk Remix)
"
which was also available as a separate promo 12", very poor quality pressing but I include it for those who didn't buy the CD single.
EPMD :
Brothers From Brentwood, LI
(Def Jam, 1992)
EPMD :
Crossover (Trunk Remix)
(Def Jam, 1992)
Malgré ce que leur récent premier album laisserait penser, le Hit Squad était un des crews les plus forts à son époque. A ce jour personne n'a fait de posse cut plus hard que "Headbangers".
Toutes la semaine je partagerais des faces B peu connues des membres du hit squad, mais pour commencer un morceau incontournable. "
Brothers From Brentwood, LI
" est le metre étalon du rap hardcore, mais ce qui est drole c'est que ce morceau se trouvait sur la face B du maxi de EPMD "Crossover". Ce titre, leur premier morceau avec un refrain chanté, était censé attirer un public pas vraiment incliner à écouter des groupes underground (et ça a marché), qui acheterai le maxi pour le coté funky innocent de la face A, et ainsi leur faire découvrir grace à la face B ce que le rap a de plus hardcore. La beauté de cette stratégie est quelle marche dans les deux sens.
Quand un groupe fait des morceaux intitulés "Underground" et "Hardcore" sur son album, on peut s'attendre à ce que les fans de longue date soient surpris quand le groupe revient avec un single cross over, justement nommé "Crossover". Pourtant les fans ont bien du acheter le single pour ne pas rater l'inédit en face B, probablement le meilleur morceau de toute la carrière d'EPMD. "Brothers From Brentwood, LI" a tout ce qu'on aime dans une production de Erick Sermon : un sample grillé, une batterie bien lourde, des couches et des couches de sons et une voix samplée. Le genre de voix en boucle qui vous laisse essouflé à la fin du refrain.
"Crossover" a été le premier et je crois le seul disque d'or décroché par EPMD pour un single. Il est également sorti en CD single avec en bonus un remix de "
Crossover (Trunk Remix)
", disponible en vinyle sur un autre maxi promo, très mal pressé mais le voici pour ceux qui n'ont pas acheté le CD à l'époque.