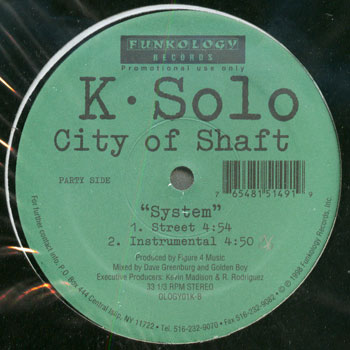 K-Solo : System (Funkology, 1998)
Kevin Madison also know as K-Solo was an original member of the Squad. Even before there was EPMD Parrish invited him to join his Rock-Squad crew in the early 80's. The professional trained boxer and aspirant MC then got involved in an ugly fight with a couple of motorcyclists and K Solo was sentenced to jail. He got released in time to appear on "Unfinished Business" and Parrish soon signed him on his management company and he fully produced his debut album "Tell The World My Name".
His friendship with Parrish Smith didn't last too long since he was the first to leave the Hit Squad and to sever his ties with Shuma Management. Apparently he was pissed off that Parrish did not took time to produce his second album, and he had very harsh words about his business practices. After EPMD's break-up he started working with Dr Dre, but you how it is when Dre works with a talented rapper (Last Emperor, Rakim, King T)...
Around 1997 he briefly reappeared on the scene, trying to diss DMX who supposedly bit his new style exposed in Redman's "It's Like That". There's nothing more pathetic than an underground MC dissing a mainstream rapper who don't even care to answer.
Last time we heard of K Solo, he was throwing chairs at Keith Murray in a club somewhere in NY.