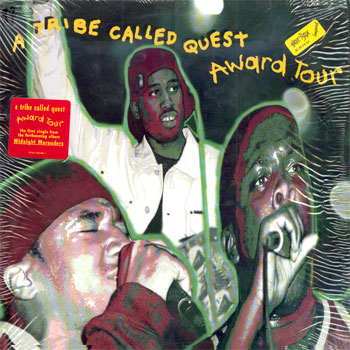 Consequence
:
The Chase Part II
(Jive, 1993)Know Naim
:
Oh My God
(Jive, 1994)
The song I mp3 tonight might be available nowadays, since it's Consequence first effort on wax. With the surprising popularity he seems to have lately I'm sure the song has popped up on one of his mixtape or something. Anyway, this exclusive version of
The Chase Part II
dropped, a month or two before
Midnight Marauder
, and ten years later I still havent figure out what was the part one ! This song was like a job interview, or a sort of casting to see if Q-Tip talentless cousin was ready to become A Tribe Called Quest fifth member. Obviously he was not, and if you ask me, he still wasn't when Tip virtually gave him the job two years later. To me, Consequence is one of the main reason why A Tribe Called Quest splitted. The inclusion of Consequence during the Beats, Rhymes And Life era ruined the friendship between Phife and Tip, and quite honnestly, none of his rhyme were really memorable. Even if he was rapping, he was more useless than Jarobi. Jay Dee's poor production was the number one cause though. The more he got involved in the production, the more Tribe fell off.
A few months after The Chase Part II, not convinced by the skills of Consequence, they had a second job interview, or if you will they used the same idea of showcasing a bunch of no name rappers on one of their beats, on the B side to
Oh My God
, except that Snag, Lo and Bay, collectively known as Know Naim, rhymed on the remix of the song, and not the classic OG version. This was probably a way to help some of their young friends to make it big in the rap game, but it failed miserably.