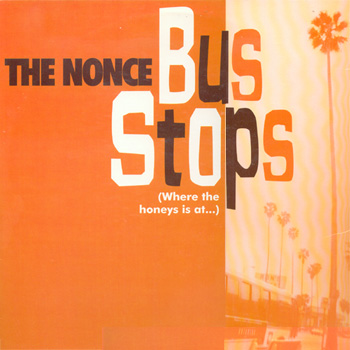 The Nonce : Who Falls Apart ? (American, 1995)Aceyalone : Mr Outsider (Capitol, 1995)Sach : Miracle (Mary Joy, 2002)
Dave Tompkins once wrote that
Who Falls Apart ?
was "one of the most somber tracks to come out of L.A.". As a big fan of depressing hip hop I co-sign his statement. If you don't trust my opinion you should at least believe someone who wrote a 16 pages feature on Paul C. Anyway, let's go back to
The Nonce
, a highly slept on duet, from the first generation of Blowedians. Not to take anything from Ahmad, Volume 10 or whoever else from the Good Life who had an album back then, but The Nonce were by far the best of the bunch, besides Freestyle Fellowship. The Nonce not only had rhymes but they also crafted nice jazzy beats for
Aceyalone
's first solo effort. In an ideal world they should have had the mainstream recognition that A Tribe Called Quest had. Far from being commercial they had songs for the ladies (the A-side "Bus Stop"), they had the catchy choruses ("I used to sell mixtapes, but now I'm an MC") and all. Despite major push from their label, they never made it. But now that I think about it American never had any successful hip hop artist : Chino XL, Milk, Kwest ? Sir Mix A Lot may be... Well, when your most successful artist is a one-hit-wonder like Sir Mix A Lot there really is something wrong with your label !
Who Falls Apart is about how many groups split up. The Nonce never split, Nouka & Yusef stayed together til death did them part. In may 2000 Yusef Afloat committed suicide and was found dead alongside a freeway. He was said to be a very melancolic guy, and had problems to assum fatherhood. The first line of his verse is saying a lot : "there's much stress in the life I live".
Sach kept doing music, he had
a nice EP on the japanese based label Mary-Joy
, and he just released an incredible album with Omid last year on his own imprint Afflatus. Go
buy
it
. And
the 12"
has an unreleased b side, but don't expect me to give it to you for free. The record is still in stores so show some support.
The Nonce : Who Falls Apart ? (American, 1995)Aceyalone : Mr Outsider (Capitol, 1995)Sach : Miracle (Mary Joy, 2002)
Dave Tompkins a écrit un jour que
Who Falls Apart ?
est "un des morceaux les plus sombres venu de L.A.". En tant que gros fan de hip hop déprimant je confirme ses propos. Issu de¨Project Blowed, The Nonce, est un duo qui n'a jamais rencontré le succès qu'il méritait. Sans manque de respect à Ahmad, Volume 10 etc aucun des rappeurs du Good Life Café de l'époque ne les surpassait. The Nonce étaient non seulement des MCs, mais aussi des producteurs à qui on doit quelques beats jazzy sur le premier album solo de
Aceyalone
. Dans un monde parfait ils auraient du obtenir la même reconnaissance qu'avait A Tribe Called Quest. Sans être un groupe commercial ils savaient faire des morceaux pour les filles (la face A "Bus Stop"), ils savaient faire des refrains catchy ("I used to sell mixtapes, but now I'm an MC") etc. Malgré le soutien de leur label American ils n'ont jamais décollé. En y repenssant aucun des rappeurs signé sur le label n'a eu de succès : Chino XL, Milk, Kwest ? Sir Mix A Lot à la limite...
Who Falls Apart parle des problèmes d'ego qui finissent souvent par détruire les groupes. The Nonce ne s'est jamais séparé. Nouka et Yusef sont restés ensemble jusqu'à ce que la mort les sépare. En may 2000 Yusef Afloat s'est suicidé et a été retrouvé mort sur le bord d'une autoroute à L.A. Ses amis le décrivait comme un garçon mélancolique, et il semblait avoir du mal à assumer l'image que ses enfants avaient de lui. La première phrase de son couplet est claire : "there's much stress in the life I live".
Nouka alias Sach a continué la musique seul, il a sorti il y a quelques années
un superbe EP sur le label japonais Mary-Joy
, et il vient de sortir son nouvel album sur son propre label Afflatus, 5th Avenue, un chef d'oeuvre produit par Omid. En plus il ya une face B inédite sur le maxi. Le disque est toujours dans les bacs, alors achetez le .