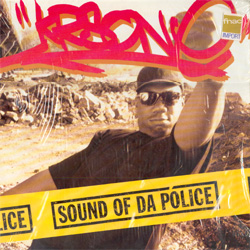 Hip-Hop Vs Rap
has to be my favourite KRS One track ever (expect to read that again). This joint is a killer from beginning to end. From the fake crowd participation intro you know this won't be a normal song, then KRS makes it an interactive record by talking directly to the MCs and DJs listening, in a way no one ever did ! He then goes on by kicking one of his most memorable verse (sampled many times) that ends up with the famous part made of various lines borrowed from classic rap joints.
A few years later used the same trick on
Bring It Back
but the song just did not have the same magic.
The fact that the song does not have a chorus is characteristic of the general superiority of a B side (I don't know why, but usually I think that I'm wasting my time when I listen to a chorus). He gets a bonus point from including the accapella of Hip-Hop Vs Rap on the 12". This track was the B side of "Sound Of The Police" and was never made available officially anywhere else (not that I know of at least). Since the record was one of his most popular under his own name it should not be very difficult to find a copy.
KRS One : Hip-Hop Vs Rap
Hip-Hop Vs Rap
est probablement un de mes morceaux préférés de KRS One (ce n'est pas la dernière fois que je vais écrire ça !). Ce titre est incroyable de bout en bout. Dès l'intro on comprend que ce morceaux sort de l'ordinaire, KRS démarre avec une fausse crowd participation, puis s'adresse directement aux DJ et aux MC en train d'écouter le disque en leur laissant quelques mesures pour rapper et pour scratcher : c'est un peu le premier disque interactif au monde ! Puis enfin un couplet mémorable qui se termine avec ces rimes empruntées à de nombreux classiques.
Deux ou trois ans plus tard il utilisera la même technique sur
Bring It Back
mais ce second morceau est loin d'être aussi remarquable.
Comme pour beaucoup de bonne faces B, ce morceau n'a pas de refrain (je ne sais pas pourquoi mais j'ai souvent l'impression de perdre mon temps quand on me répète huit fois un refrain). En plus on a droit à l'accapella de Hip-Hop Vs Rap sur le maxi. Ce morceau est trouvable sur la face B de "Sound Of The Police" sorti début 1994.