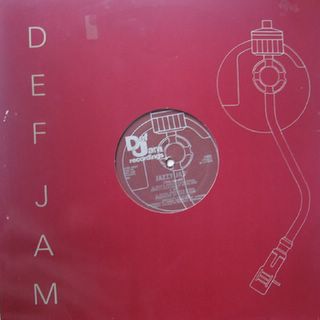 Jazzy Jay & Russel Rush :
Cold Chillin In The Spot
(Def Jam, 1985)

I said I wouldn't, but finally I bought Russel Simmons' biography. You know how it is, one day you'll have 9 hours to spend on a flight and you come across the book in a Half Price Books & Records shop. But guess what ? Life & Def is not as bad as I thought. It's actually way better than DMC's autobiography, much more info in it. Did you know Slick Rick was locked in a mental ward when he signed to Def Jam ?
I could have lived without the 20 pages about Russel goes to Hollywood. I mean, the guy made three movies but he really thinks it's essential to give his opinion on every single guy he ever met in the movie industry. But besides that it's interesting, especially the first part of the book, how he grew up, how he started managing Kurtis Blow etc...
It gives an insightful point of view on the business side of Def Jam, but not so much on the artistic side (Rick Rubin and then Lyor Cohen were more in charge of the artists it seems). For example he doesn't name any artist he signed himself. LL Cool J was discovered by Ad Rock, Rick Rubin "forced" Chuck D to sign with the label, Tracy Waples found Method Man, Lyor Cohen is responsible for Warren G being on the label etc
The only problem I have with the book is that he really doesn't give props to the man who created Def Jam with Rick Rubin : Jazzy Jay. I think he only mention his name once : "one night at a club Jazzy Jay asked me if I wanted to meet the guy who made It's Yours". He barely acknowledge the fact that the name and the logo of the company Def Jam existed even before he got into the picture. And there is no mention of
Cold Chillin In The Spot
, the only song Russel recorded himself ! This odd track is a filler to be found on the b side of Jazzy Jay's "Def Jam" where Russel Simmons talks about... nothing really. While he had writing and producing credits on numerous tracks I think it's the only track where Russel raps.
I guess if I want to know more about Def Jam I'll now have to read Stacy Gueraseva's book.
Def Jam Inc
.
Update : I did, and it's really a good read. Lots of information on acts no one cared about like Resident Aliens !