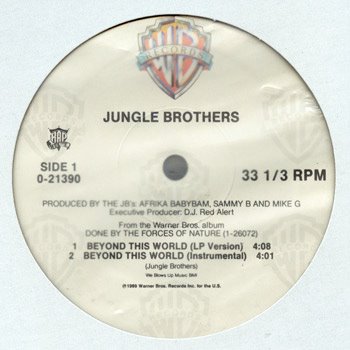 Jungle Brothers & Q-Tip :
Promo N°2 (Mind Review '89)
(Warner, 1989)
Heavy D, Kool G Rap, Grand Puba, CL Smooth, Big Daddy Kane, Pete Rock & Q Tip :
Don't Curse
(Uptown, 1992)
Cold Chillin Juice Crew :
Cold Chillin Christmas
(Warner, 1988)
Mix-Her-Hug
(homemade edit)
Sorry for the lack of post lately, my internet conncetion was down. I won't be home for the next two weeks so don't expect too many updates this month.
Anyhow I finally managed to find my copy of Beyond This World. It was misplaced in my Expedit, as always. I was talking about this track in my post about If The Papes Come, when I was discussing the different songs Q-Tip did with The Jungle Brother. But honestly
Promo N°2 (Mind Review '89)
deserved it's own post, just so I can disgress and talk about anything but this song.
This record was probably the first song where I heard Q-Tip, or at least it was the first where I really noticed him. I remember hearing that for the first time on a tape of the Dee Nasty show, it was the week when they had my cousin's friend who rhymed in "chinese" (i guess it was in mandarin, but they simply said Chinese). Dee Nasty opened the show with this record and that's when my obsession with Q-Tip started.
Between the first Promo (see below) and the second one Hip Hop had went through a lot of changes as stated in Tip's rhyme : "Promo No. 1, Q-Tip had a fade, Promo No. 2, Q-Tip rocks braids". yeah back in those days MCs where really innovative in their haircuts. Nowadays it seems everybody is bald, but in 89 between the jheri curl, the afro, the dreadlocks, the cornrow... Hip hop hair were so versatile in those days, I really miss that.
The JB's and Q-Tip were rhyming over a famous Booker T loop, and Tip rhymed over it again a few years later on the Pete Rock-produced posse cut
Don't Curse
along side Heavy D, Kool G Rap, Puba, CL Smooth and Big Daddy Kane. A few years ago I wrote that bitter-sweet article on Kane for my
Strictly Hatred column in Real
, where I considered that he jump the shark when he did the video for this song, with the infamous purple silk shirt. It's a shame because his verses where still nice then.
Coincidentially Big Daddy Kane as well had rhymed on a song with the same sample before, the little known
Cold Chillin Christmas
with MC Shan and Roxanne Shante, from the Winter Warnerland compilation. Now that I think of it, I really should have make fun of this one too. As if having a christmas song wasn't corny enough, someone thought it would be a good idea to have Cold Chillin CEO Fly Ty to drop a verse. Bad executive decision ! Well once you agreed to do a christmas song on a compilation, between Pee Wee Herman and Los Lobos, you can't really expect people to take it seriously, so it's all good I guess.
Oh yeah, and since I had too much time on my hands I just did
a little mix
with the three tracks.